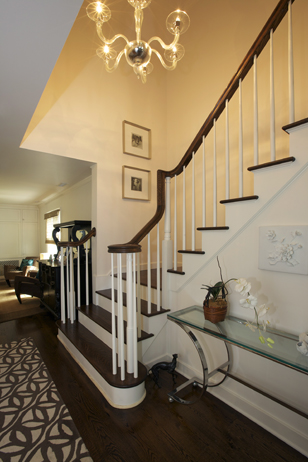 Ann Lineberger Interiors is a full-service interior design and home staging business.
Ann Lineberger has been practicing design since she was a student in late 1990s at the New York School of Interior Design. Several years ago, after overseeing the building and design of a "Newly Old" Colonial farmhouse for her family in Wilton, CT, Ann officially opened an interior design and home staging business. She is an expert at adding a sense of architectural history and warmth to new construction. In fact, she authored book, New Spaces, Old World Charm (McGraw-Hill, 2004), which profiles the work of high-end designers who pioneered the style and includes fourteen sources chapters. In the book, Ann shares the designers' tips in a how-to way to help those working within any budget. Ann's background also includes working for over fifteen years in journalism, primarily writing about interior design including antiques for publications such as Connecticut Cottages & Gardens, New Old House and Home Remodeling.
Ann is an Allied member of the American Society of Interior Designers (ASID).
Below is a sampling of Ann Lineberger Interiors' work